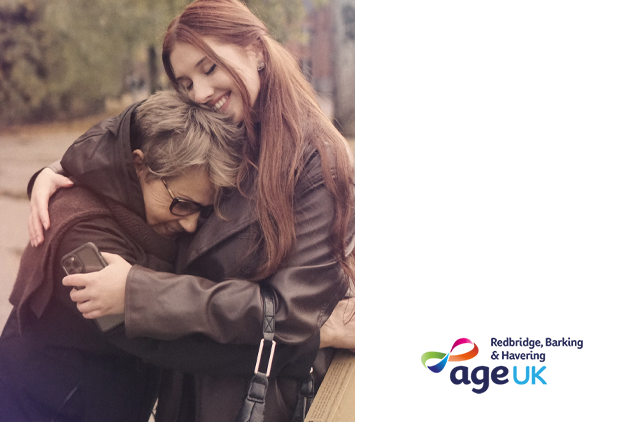 Age UK Redbridge, Barking and Havering
About
We cater for all older people's interests. On health, social care and wellbeing, we have a focus on social isolation, hospital discharge, primary care access, mental health services and social support.
Activities
Social support (including befriending), information and signposting, skills, activities, health and wellbeing awareness, IT support, community engagement.
Activity Centre: The Allan Burgess Centre, 2 Grove Park, Wanstead, E11 2DL
Surveys
New Survey on Social Isolation and Loneliness
Older people may become lonely after the loss of a spouse or a loved one. Other common triggers include retiring from work, children leaving home, having reduced mobility, or no longer being able to participate in enjoyable activities for some reason.
During the pandemic, many people experienced for the first time, what other people had been experiencing all the time. For some people, there was no difference, because they already felt isolated and lonely.
Social isolation is a measure of the number of contacts people have. Loneliness relates to the quality of those relationships. People may happily choose to have only a few contacts, but they may not choose to be lonely.
The purpose of this survey is to establish the reasons and frequency of Social Isolation for the local population and to attempt to address the issues once highlighted.
We would ask you to give specific details of any groups, clubs and activities you attend, so that, as a result of the survey, we can compile a comprehensive list of activities available locally.
The survey closes on 16th November 2023.
Click here to complete the survey.
Reports
Age UK report on Digital Skills
During April - August 2023, 121 older people in Redbridge completed our survey on digital skills. The survey aimed to understand how comfortable people are with using digital technology and what areas they may need more support or training in. It also aimed to identify whether people feel digitally excluded from some services and activities and how this impacts on their daily lives.
We found that the older people are, the less likely they are, to own a digital device, or to have the skills and confidence to make the most out of them.
For example, fewer than half of respondents aged 75 – 89 (47%) own a smart-phone, this compares with 78% for those aged 65 – 74, and 100% for 50 – 64 year olds. On skills, just 39% of those aged 75 – 89 feel confident to use their smart-phone, comparing with 69% for respondents aged 50 – 64.
This sort of disadvantage, along with the rapid move to online-only services, has clearly resulted in inequality and exclusion. Services with an online access requirement have been problematic for 36% of respondents (again many of them older) and just 33% were offered an alternative access method.
We have heard accounts of staff insisting on the online method, with advice to 'get family or friends to help'. When someone has outlined difficulties with technology, we feel that this kind of approach is inappropriate, and unreasonable. There should always be an alternative and people should always be supported
Age UK report on Social Care
During January - March 2023, 81 local older people completed our survey on social care services in Redbridge.
We found that on awareness of social care services and assessments, just 15% of respondents are 'confidently aware' of the support on offer. Around a third (38%) know how to make contact, while a similar number (36%) do not.
Given that half of respondents (52%) would contact social services if they needed support with daily living, we feel that awareness levels need to be much greater.
A fifth of respondents (21%) would not be willing to undertake a financial assessment, to receive services and support. There are concerns about privacy, doubts about eligibility, and worries about losing independence. With this in mind, we also feel that services should offer more encouragement, to improve uptake levels.
When accessing services, 28% of respondents were able to make contact easily, while a larger number (39%) experienced difficulty. The phone is clearly the most preferred method of contact (63%) so should remain as an effective option going forward.
Age UK Report on Cost-of-Living Crisis
During October - December 2022, 154 local people in Redbridge completed our survey on the current cost of living pressures.
Findings suggest that older people are experiencing a 'real and significant' crisis.
A clear majority of respondents (91%) express worry or concern about rising costs and a large number (85%) have taken action to cut back on their bills and expenses.
Of those making cutbacks, around three quarters (73%) have reduced their household energy use, 43% have curtailed their social activity or holiday plans and 35% have cut down on meals, or switched to cheaper brands.
After paying for basics, 43% of respondents have 'money left over for luxuries' while a larger number (48%) say they do not. 41% have had to use savings.
A significant minority of respondents (39%) say that the current economic situation has affected their physical or mental health.
Key concerns include the ability to pay bills, level of savings, and possibility of falling into debt.
Click here to read our full report https://www.ageuk.org.uk/bp-assets/globalassets/redbridge-barking--havering/news/age-uk-rbh---cost-of-living-survey-2022-23.pdf
Contact:
Priti Mistry Age UK Redbridge, Barking and Havering 4th Floor 103 Cranbrook Road Ilford, Essex, IG1 4PU
Tel: 020 8220 6000 
Email: admin@ageukrbh.org.uk