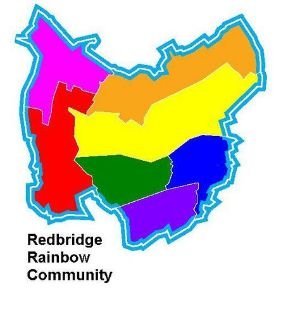 Redbridge Rainbow Community 
About
Redbridge Rainbow Community works with LGBTQ+ people who live, work, socialise or study in the London Borough of Redbridge.  
We provide support and signposting, influence policy and practice and run training.
Activities:
arrange meet-ups for friendship and support and other events
provide training for local organisations on LGBTQ+ issues
work with the local council, allies and partners so that the London Borough of Redbridge meets the needs of our diverse community
Events
Redbridge Rainbow invite you to join them for their winter social event! The event includes a chance to participate in some activities alongside partaking of drinks and snacks. Activities include:
Beginners' concertina bookmaking. These are simple folded books that you can use for writing, drawing, painting, collage, photos and more!
A chance to have a chat with some local services and organisations to share your experiences and get involved
6.15-7.00 - a dance fitness class (optional). 
The dance fitness class will be with Tidus Ngan, who is a dancer from Hong Kong living in Redbridge. You don't need to have had any previous experience - it'll just be about having some fun together. Please wear that you feel comfortable moving in, and a towel if you want to. If you don't want to take part in the class, then you will be able to carry on with the other activities. 
See downloads for more information.