Enter and view - Complaints - Redbridge GP's Complaints procedures
The report from the 2015 Enter and View completed by Healthwatch Redbridge in regards to the complaints procedures at GPs.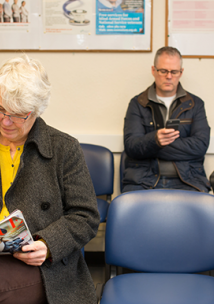 Recommendations
From our findings we believe the following recommendations would be useful in supporting practices across Redbridge:
Complaints information should be made available in a variety of formats. As the minimum, we would recommend that ALL Practices provide information as a poster, in a leaflet and on their practice website. Where practices have an information screen in the public area, complaints information could also be included
Posters, leaflets and website information should be simple to understand and be accessible for disabled people (clear fonts, large print, easy read with photo symbols etc).
Website settings should ideally conform to accessibility standards (such as W3C AA5 ). Websites should provide clear labelling, plain language and have an ability to change text size and background colours for contrast options. An information video (with British Sign Language, audio and subtitles) would be an excellent addition to a website to support patients.