Healthwatch needs people who can talk with users and take note of what is happening in places where problems have been reported, or where examples of interesting or good practice can be made known and publicised.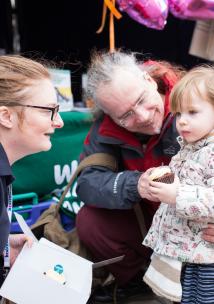 You will need some knowledge of health and social care services either from work, volunteering, or personal experience. Training and support will be given.
The Community Outreach Volunteer will go to places such as libraries, hospitals and health fairs in Redbridge. This is to promote Healthwatch Redbridge and to gather the experiences of the public about NHS services in the borough.
Interviews
Applicants who have been successfully shortlisted, will be invited to an interview. This will be a good opportunity for the applicants to find out more about the role and for Healthwatch to assess whether the applicant is suitable for the role. 
Training
Applicants will need to attend and complete the training session.   Lunch will be provided. All information will be provided in printed format complete with a folder and any access requirements will need to be known prior to the session. We can provide information on USB sticks, large print and Easy Read at the present time.
DBS check needed
All successful applicants must undergo a Disclosure and Barring Service (DBS) check, and must agree to have their names published as Healthwatch Authorised Representatives.
Expenses and payment
Reasonable out of pocket expenses can be claimed.
Interested? 
If you are interested please contact our Volunteer Coordinator, Miranda, to discuss the role, or complete the application form.
Name:             Miranda Peers
Telephone:     020 8553 1274  
E-mail:          miranda@healthwatchredbridge.co.uk
To apply, please fill out the volunteer application form below...