Accessible Information Standards - Report
The Accessible Information Standard (AIS) is a mandatory and statutory requirement that applies to all providers of NHS and publicly-funded adult social care services and came into force on 31 July 2016 .
It is underpinned by the Equalities Act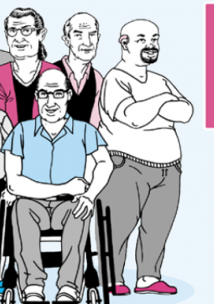 Know your rights under the Accessible Information Standards
Accessible Information Standards: in brief
As part of the Accessible Information Standard (AIS), organisations providing health or social care must do five things. They must:
Identify: Ask people if they have any information or communication needs, and find out how to meet their needs.

Record: Record those needs clearly and in a set way.

Flag: Highlight or flag the person's file or notes so it is clear that they have information or communication needs and how to meet those needs.

Share: Share information about people's information and communication needs with other providers of NHS and adult social care, when they have consent or permission to do so.

Meet: Take steps to ensure that people receive information which they can access and understand, and receive communication support if they need it.
Since the launch of the Accessible Information Standards, we have worked with a number of local user led disability organisations to identify whether communication support had improved. We used this evidence to provide a response to NHS England when they completed a national review of AIS in 2017. You can download the Easy Read Accessible Information Standard in the attachments below.
You can also download the Accessible Information Standard poster (below) to show people using your services that information can be provided in a different way if support is needed
Attached is a document produced by http://www.changepeople.org/ letting everyone know their rights regarding the Accessible Information Standards 
Also attached is the summary of our Accessible Information Standard workshop that we held for Practice Managers across the boroughs of Barking & Dagenham, Havering and Redbridge. This was to ensure the Practice Managers understood the Accessible Information Standards and implemented them accordingly.