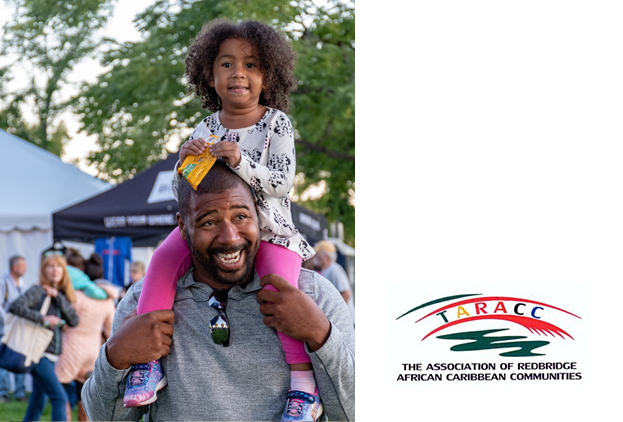 The Association of Redbridge African Caribbean Communities (TARACC) 
About
TARACC'S focus is on raising awareness on health and wellbeing, mental health, physical health, and black history, through seminars, workshops, and outreach activities. Business and entrepreneurship promotion. We seek to elevate, encourage and support self-reliance within the community.
We strive to build productive relationships and make a positive impact on the members of our communities with all of our pursuits.
Providing Social, support, information, personal development, business and enterprise promotion.
Two walking groups in the Parks
Outings to places of historical interest around London
Coffee Mornings
Black History Month seminars
Health and Wellbeing seminars
Business and enterprise promotion
Events
Black History Cultural Day - 8th October, 11am-5pm
The Association of Redbridge African Caribbean Communities and Redbridge Equalities and Community Council will be hosting Black History Celebration; Cultural Day - A celebration of rich cultural heritage illustrated through; activities, entertainment featuring IRWKO Drumming , Steel Pan, Spectacular Community Carnival Procession, Tasty African and Caribbean food, Windrush 75, Black History Exhibition, bringing together a vast array of Black owned community stalls for the community to enjoy! Guest Speaker Dr Morgan Dalphinis is back to cover aspects of Caribbean History plus other inspirational speakers including Jane Grell - Storyteller & Musician, Carlene Dussard - Entrepreneur, Rose Johnson - Author.
All ages and communities welcome to this FREE exciting community event.
Activities
The Health and Wellbeing Project runs activities to bring people together, stay active and build social networks. We aim to tackle loneliness and isolation, improve physical health and fitness,  mental health and wellbeing.
Keep Walking Groups
Being physically active is one of the most important steps anyone of any age or ability can take to improve their health, and walking is an excellent way to increase activity. We hold weekly walking excursions to different parks.
Venue: Valentines Park, Cranbrook Road, Ilford  (meet near café/children's play area).
Saturday 09:30 - 11:00 a.m.
Monday 10:00 – 11.00 a.m.
Social Meet-ups
The monthly social meet-ups are important in bringing the community together to celebrate African Caribbean culture, food, music and dance, and build a sense of belonging.
Last Friday of the month 7-10.30PM
Venue: Redbridge Sports & Leisure Centre, Norman Booth Building. (1st Floor Bar), Forest Road, Barkingside, Ilford IG (next to Fairlop Station)   
Meetings:
Monthly, at Redbridge Sports and Leisure Centre, Forest Road, Ilford IG6 3HD.
Downloads
Black History Cultural Day 2023